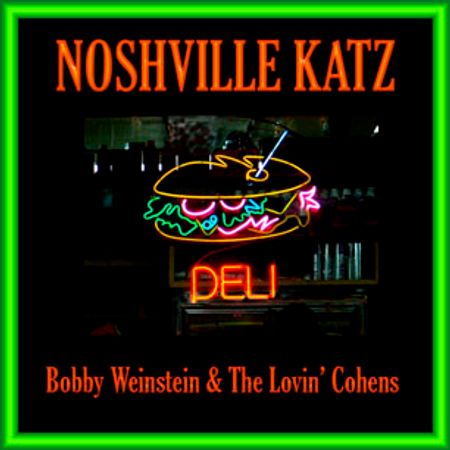 CLICK TO LISTEN ON:   CD Baby, iTunes

 or  Amazon 
FYI …. Noshville Katz is a comedic departure from Bobby's varied catalog of songs.  He occasionally strays down a path that is shrouded with mystery and uncommon direction.  He has been known to deviate from his successful love songs to unusual and different concepts.  Here is a perfect example.
A Brooklyn native, Bobby grew up in a neighborhood surrounded by Kosher delicatessens.  He has an amazing ability to portray the accents and characteristics of the Yiddish community.  
Essen means "to eat", and delicate is defined as "pleasing to the senses".  Hence evolved the "delicatessen", a wonderful place to eat and enjoy.  This colorful gourmet excursion captures the flavors and essence of an Old World style of dining, still loved from Brooklyn to Brigadoon.   
Sing along with Bobby and The Lovin' Cohens while they review the menu at the Noshville Katz kosher deli in Nashville, Tennessee.  Try to control your laughter and your flavor buds as they wind their way through this maze of Yiddish delights.  Bon Appetit!  And gezunt in dir! (good health to you)
Perhaps this song became the inspiration for the creation of the Noshville Delicatessens in Nashville, Tennessee.
Let us not overlook the creator of the original "Nashville Cats".... the incredibly talented John Sebastian, who with the Lovin' Spoonful told a musical story about guitar pickers in Nashville, Tennessee.   "Noshville Katz" is a parody that exists today thanks to John... and corned beef sandwich lovers everywhere..
Goin' Out Of My Head

Hurts So Bad

It's Gonna Take A Miracle

I'm On The Outside Looking In

Pretty Blue Eyes

Have You Looked Into Your Heart

Sweet Cream Ladies, Forward March

Take Me Back